I'm coming up on five years since I started my creator journey. I started writing Creative Companion in January 2017 (though, by a different name) and I took the leap to self-employment in April of the same year.
I had no idea what I was doing.
I was freelancing, but I didn't really have any clear direction. I built WordPress websites. I did copywriting. I helped produce podcasts, and I even helped a company choose a name for itself.
All I really knew was that I just wanted to live life on my own terms. I wanted to choose my projects, choose my hours, choose my collaborators, and ultimately choose what my days actually looked like. I wanted to decouple my time from how I earn a living.
Other than that...I didn't have much direction.
So growth was slow. Painfully slow.
And money was tight. Painfully tight.
But I just kept at it. And all the while, I was slowly shifting my energy away from work that I didn't love doing and towards work that I really loved doing.
Warning: I want to talk about money
I don't talk about numbers much in this newsletter. I know that there's a lot of baggage that comes with money. We all have our own money stories and it can be a weird thing to talk about.
But it's important to talk about money sometimes. Because, unfortunately, we don't live in a world where money is really representative of the amount of effort you put in. It's not even always representative of the quality of work that you do. There are so many factors that go into how much money someone earns – and it can feel unfair.
But that can also be empowering. There is no real limit to what you can build and earn online. It's honestly mind-boggling once you start experiencing it.
So let me be direct – my creator business had its biggest month ever in February, generating a little more than $18,000 in revenue.
I was over the moon! And I didn't expect that March would keep that pace. But halfway through the month, the business has already generated more than $20,000 in revenue.
I'm not working harder now than I was four or even five years ago. In fact, I was working really hard back in 2017 to get by.
It was year three the business before I (barely) broke six-figures – and that was almost entirely service-based income.
Then in year four (last year), the business generated a little more than $150,000, and that was with almost zero service-based income.
And at today's pace, the business may be able to generate more than $200,000 in revenue this year.
An important distinction
Notice that I keep saying that the business generated these figures – because even though I'm the driving force behind the business, I am not my business. My personal worth and my identity are not tied to the business.
That's important for a few reasons:
The business is a thing that exists to create value and generate profit. I'm building it, but generating profit is not *my* sole purpose.
If the business does poorly, it's easier to not get down about it
These numbers are all pre-tax. That's not all in my pocket!
But these are numbers I'm proud of. It certainly looks and sounds better than it felt in real time. Because in real time, things felt (and still feel) like a struggle.
Most days feel an uphill battle with no discernible payoff.
Was that email really worth it?
That Tweet?
That post on LinkedIn?
But those small, incremental commitments over a five-year time horizon have made all the difference.
Becoming a *professional* creator
My methodical, day-after-day commitment is the "secret" to becoming a professional creator.
If you want to create a real business with meaningful profit, you have to approach your work professionally.
Anyone can be a creator...but to make a living as a professional creator, that takes a lot of effort and commitment.
A professional shows up every day. A professional creates when they don't feel like creating. A professional is constantly looking for small, incremental improvements that add up.
I know it doesn't sound sexy. It doesn't sound as "fun" as the pure creative work. But I can tell you after nearly 100 interviews on Creative Elements with some of the best creators in the world...that's what it takes.
The payoff
I don't have nearly the audience size of my podcast guests. I'm just starting to feel confident about my mission, vision, and strategy. I'm just starting to trust that my projections for digital product sales will actually sustain.
...but that's what's so exciting. I feel like I'm barely scratching the surface of what's possible for my own creator business, and I'm already experiencing a huge payoff.
It took five years to get to this point. It took five years to build the supporting systems in my business so that I can really focus my energy on creating good content and building new relationships.
But there's nothing special about me. There's nothing that unique about me other than my relentless consistency and professional approach.
And now that I'm here...I can't tell you how lucky and grateful I am.
How I can help you
I can't imagine a better lifestyle than what I've now built for myself.
I have so much freedom. So much control. I basically only wear sweatpants.
So I want to help as many people experience this as possible – and that's the clarity I've found in my mission with Creative Companion. Not just this newsletter, but my entire business.
I help people become professional creators.
This newsletter is a big part of that, Creative Elements is a big part of that, and the courses and workshops I develop are a big part of that.
But the biggest piece is brand new. The place where I'll be putting a huge amount of my personal time and attention is the Creative Companion Club.
​Inside the Creative Companion Club, you'll get to spend a lot of time interacting with me directly. And when I'm not interacting with members in real time, I'm recording videos and documenting everything I'm doing in my OWN business that I think you can learn from.
Because I'm actively growing my OWN business as a creator, everything I learn is useful to the community. Everything I learn, I teach. Everything that works for me, I share.​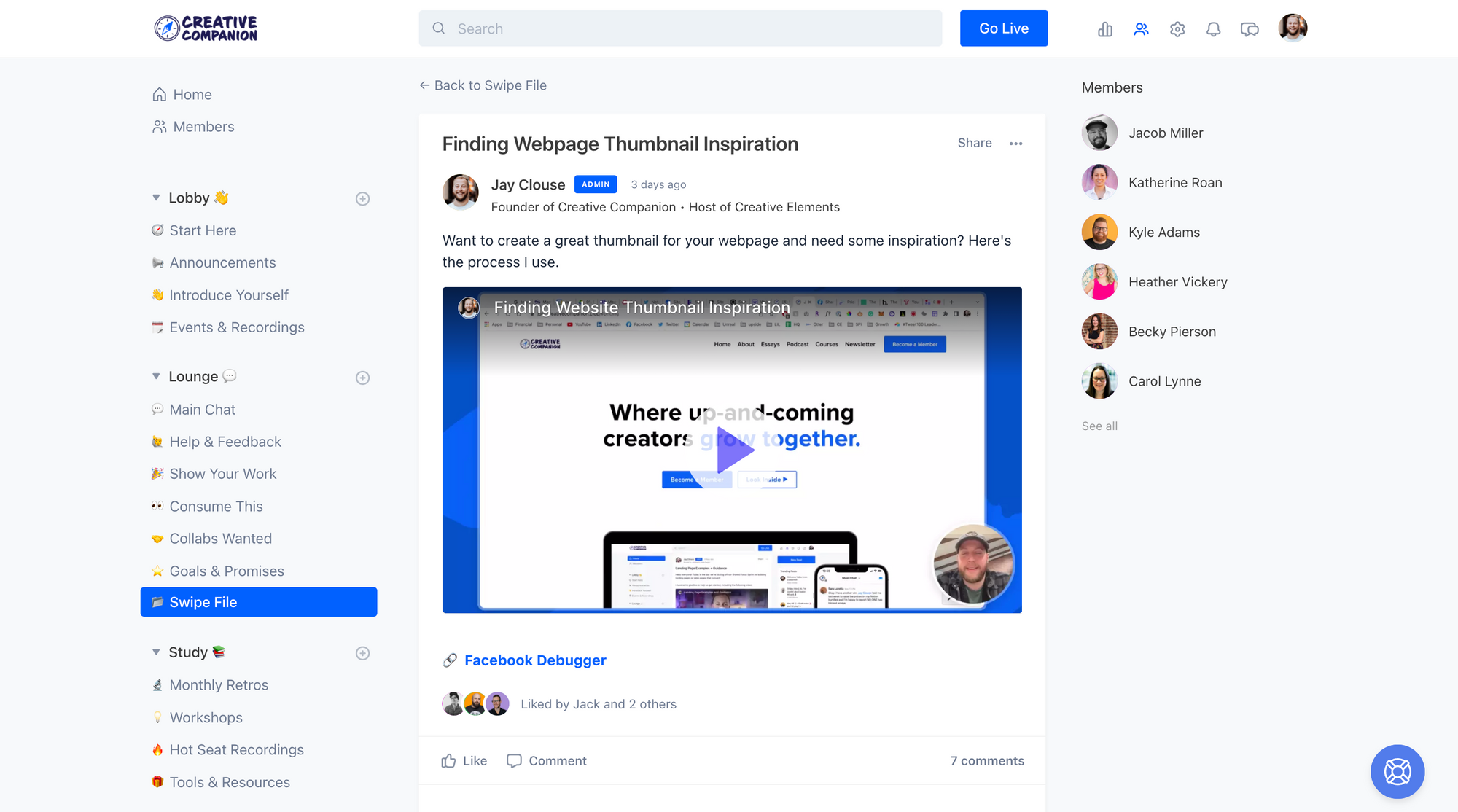 I've never been more proud of a product, and 60+ members already love it.
If you're a creator who is actively building your business and you need some help going pro – the Creative Companion Club is made for you.
No hard sell from me – if it feels like a fit, then it probably is. If you're not committed to the years of effort required to go pro, or if the price seems too steep, then it's probably not quite a fit.
But I want to help as many creators go pro as possible, and the CCC is how I'm going to do it.
PS: If you enjoyed the numbers talk here, you'll love the CCC. Every month, I record an in-depth video going through my business's financial performance, whether I reached my goals or not, lessons learned, and the decisions I'm making for the next month based on those lessons.
And if you're a community-builder yourself, I think you'll really enjoy seeing the unique ways I'm building the CCC. It's my lab for testing new ways of cultivating online communities...and I'm really excited about the experiments.