You are awesome – and we are going to be friends.
You'll receive my newsletter, Creator Science, this coming Sunday. My mission is to help you become a better creator – even a professional creator if you aspire to that.
But there are FOUR steps you can take right now...
1. Subscribe to the podcast
I really recommend you subscribe to the Creator Science podcast (which you can also watch on YouTube)!
Every week on that show, I dive into the specifics of how the world's best creators like Ali Abdaal, James Clear, Tori Dunlap, and Codie Sanchez are building their audiences today.
Not what worked 2, 5, or 10 years ago, but specific strategies and tactics that are working for them TODAY.
Not sure where to start? Try our curated playlists!
2. Watch on YouTube
If you're more of a video person, check out the podcast on YouTube!
I'm learning a ton from these interviews that I'm applying to my OWN business right now and I know you will too.
Our goal is to make a 60-minute interview as visually engaging as a 60-second TikTok. I know that sounds insane, but check it out:
And beyond the interviews, I've also started producing solo videos on YouTube where I share the behind-the-scenes of MY business.
I think there's a certain level of transparency and authenticity from most creators who are sharing their journey, so I want to do the opposite.
Here's a breakdown of my revenue in 2022:  
3. Enroll in my most popular workshop
If you're relatively new to this creator thing, I want to help save you months or even years of effort by telling you everything I wish I had known when I started.
Finding traction as a creator in 2022 can feel like walking through mud. Thankfully, after 100+ interviews with today's top creators, I've developed a formula to make that walk feel shorter and easier.
In this 90-minute workshop, you'll learn:
A 7-part framework for finding traction
Where to focus your energy (right now)
How to look legit (even as a non-designer)
How to set yourself up to sell digital products
If you're feeling overwhelmed, stuck, or not sure where to start, this is the plan I would personally follow if I were starting today.
This is the most popular workshop I've ever made with more than 100 students.
4. Join our community of creators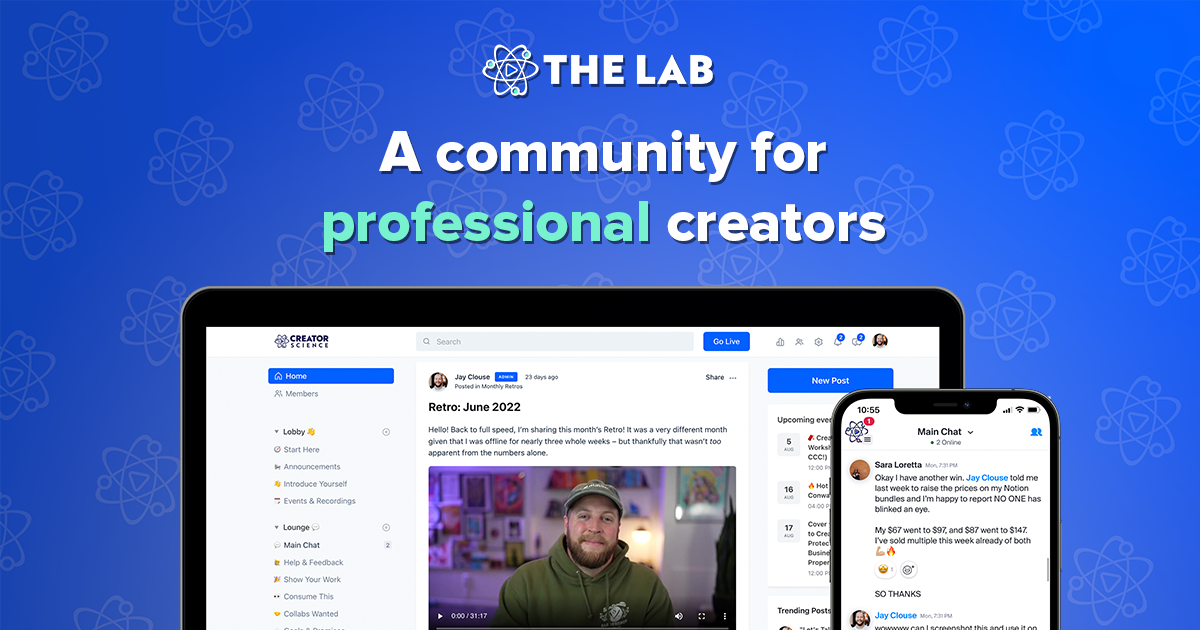 And if you're really serious about becoming a professional creator...the best thing you can do is join The Lab. It's an investment, and you shouldn't join until you're really serious about your creative work.
But if that's you, then we'd love for you to join us.
Talk to you soon!
Jay