There are two types of creators: a.) educators and b.) entertainers. The best educators are also entertaining – and yes, some entertainers who can teach you things.
But, fundamentally, I believe there are people who help you learn and transform or happily pass the time.
For a lot of business-minded creators, we choose the education path. When you're in the business of helping people learn and transform, you aren't competing with Netflix, Hulu, celebrities...
So we setup our website and position ourselves as teachers. We often use one of my favorite frameworks, "I help X do Y."
Examples:
This is an excellent, helpful framework. You're making your message very clear, and the people coming to you know exactly what to expect from you!
But something I've been thinking about lately is just how explicitly you need to adopt a posture of "teacher."
One creator I look up to a lot is Ali Abdaal. Last week I shared his recent video, What Am I Doing With My Life? In that video, Ali breaks down his goal of £5M revenue goal for the coming year. And £3M of that figure is projected to come from his cohort-based course, Part Time YouTuber Academy.
Ali started PTYA a couple of years ago and thought that he'd maybe have a few dozen students. But today, it's the biggest part of his entire business! He makes more money teaching people how to do YouTube than he does being a YouTuber with 3M subscribers himself.
And here's the thing – I've never heard Ali call himself a teacher. He probably wouldn't say his business is helping people become better YouTubers (even though that's the main driver of revenue).
But people flock to Ali and his course – why? Because he's really demonstrated that he knows YouTube. He has 3M subscribers!
People want to learn from Ali not because he's a teacher...but because he's a student of YouTube. And one of the top students of YouTube at that.
So Ali doesn't have to adopt the explicit posture of Teacher.
Another example that has stuck with me: Anne-Laure Le Cunff of Ness Labs. I interviewed Anne-Laure on Creative Elements in October 2020 to talk about how she grew her email newsletter so quickly.
Here's what she said:
"I've always made it a point to be very transparent with people. It's everywhere on my website that I'm a student, I don't try to pretend I'm more of an expert than I am. And this is the invitation I give to people, I tell them, 'Hey, I'm on this learning journey want to come with me?' That's, that's a contract with my readers."
That has always appealed to me, and I have even better language for it now – we want to learn from people who are still learning. The best teachers are students of their discipline, and there's a lot of power in adopting the posture of STUDENT even if your business is built on teaching.
I'm fortunate that my business is very stable financially. I'm well-diversified, and I rarely offer any type of client services. My revenue mostly comes as a byproduct of my content.
And so instead of adopting the position of teacher, I'm doubling down on my position as a student. I was previously positioning myself by saying, "I help people become professional creators."
But now...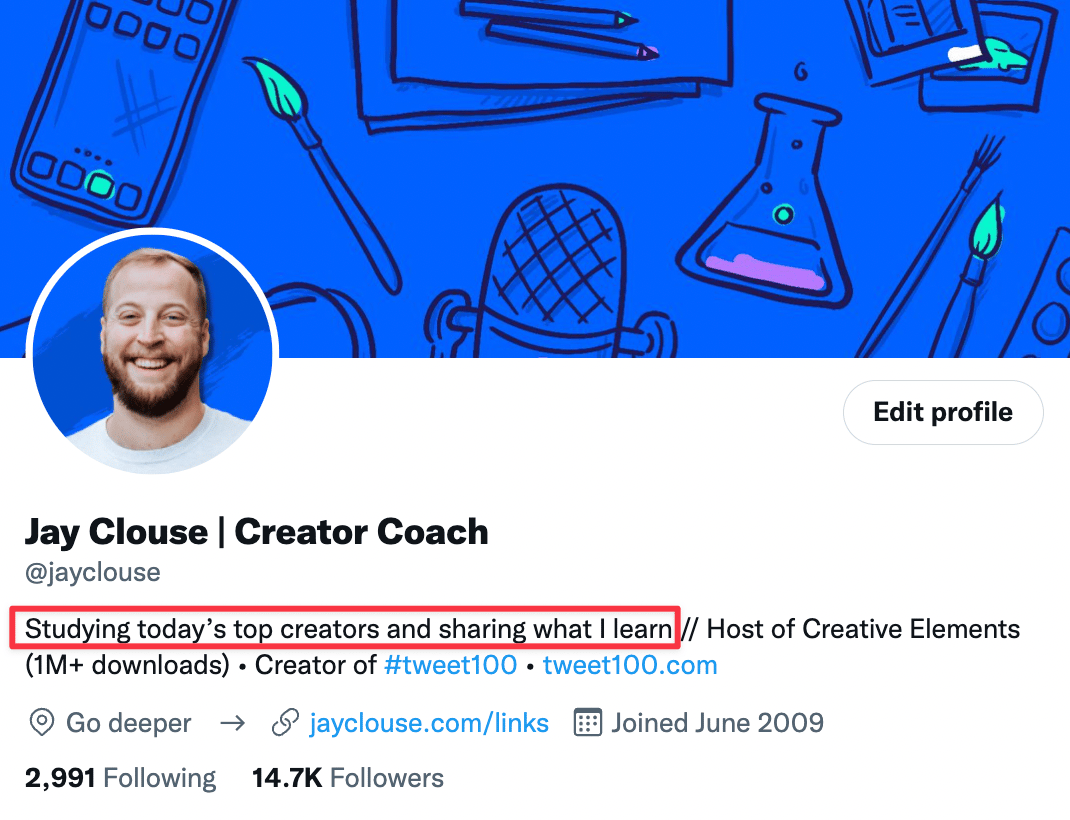 I want to explore. I want to research. I want to document and tell stories. In doing so, I'm sure I'll continue to educate others.
My mission is the same – to educate, empower, and encourage creators.
But I'm on a learning journey. Want to come with me?