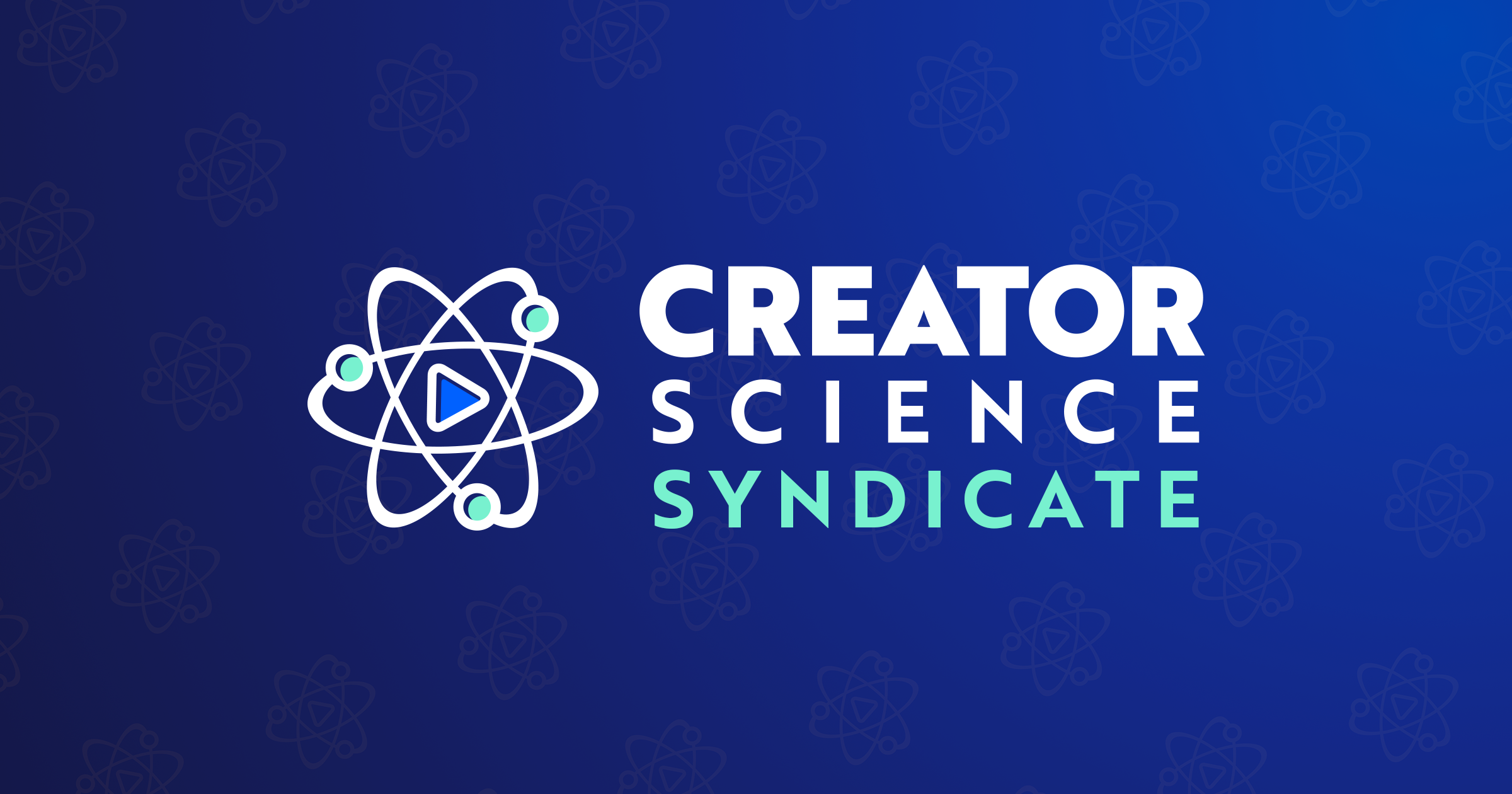 Hello, my friend! Jay here. 👋
Over the last several years of building Creator Science, not only have I built relationships with a ton of creators, but also the founders of creator economy companies.
It's given me the opportunity to personally invest in a handful of companies inside of the creator economy – companies like Maven and Intros.ai.
Now that Creator Science's audience has grown, it's created a new opportunity: connecting the creators in my audience to these investment opportunities too.
I'm excited to announce the Creator Science Syndicate – a community of creators, investors, and subject matter experts investing in the best companies in the creator economy.
For this syndicate, I've partnered with John Gannon of Venture5 Media, one of the original creators focused on the VC space, and an active angel investor. He also cofounded GoingVC, a leading VC education program with 500+ alumni around the globe. I read John's blog for years before he became both a member of The Lab and a personal friend.
I'm excited about working with John because of his experience in the venture world, and because he has global reach into hundreds of VC firms that our portfolio companies will be able to tap into as they grow.
We don't just invest in companies that we believe in, but companies whose products we personally use. We have investment experience as well as a unique perspective on creators, their needs, and which companies are actually addressing them.
In short, we're investing in companies who are building products WE want to use in our own creator businesses. Companies we believe are serving the creators who lead the creator economy.
Now, not only can you be a user of these products yourself, but you can share in the upside of these companies' success too.
If you want to join our syndicate for the opportunity to participate in future investment opportunities, start by clicking the button below. Our first deal will be live by the end of September.
Very Reasonable Questions
A syndicate is a group of investors that pool their capital together to invest in a company that the syndicate 'leads' (in this case, me and John) select.
When you join a syndicate, you'll be invited to deals that you can choose to invest in on a deal-by-deal basis.
To be 100% clear: There is no commitment to invest in deals when you join a syndicate.
If you'd like more details about how syndicates work generally, John's team at GoingVC wrote an excellent overview post about syndicates which is linked here.
What's the difference between a syndicate and a fund?
A fund is one large pool of capital contributed by Limited Partners (LPs) and then managed by the General Partners (GPs). With a fund, you pool together a large amount of capital with the hope of sourcing great investment opportunities later.
With a syndicate, we pool together a group of potential investors but source a deal BEFORE you commit to investing. You invest smaller amounts into specific companies that we present to you for consideration.
What am I committing to by joining the syndicate?
No commitment – you're simply giving us the ability to communicate with you.
When you join a syndicate, you'll be invited to deals that you can choose to invest in on a deal-by-deal basis. There is no commitment to invest in deals when you join a syndicate.
However, if you do not submit the form, you will not receive any information about investment opportunities.
What happens after I join the syndicate?
This form simply tells us who is interested in working with us.
From there, we go to work identifying and lining up great investment opportunities. When we identify opportunities that we believe members of our syndicate would be interested in, you will receive an email from us. That memo will include information about the deal (a deal memo) and the next steps if you're interested in investing.
Do you have any deals lined up now?
Yes. We expect to share our first investment before the end of September. The only way to get access and more information will be by submitting the form above.
How much will I be able to invest?
Investment minimums and maximums will vary on a deal-by-deal basis. Typically, we'd expect minimums ~$3,000 and maximums ~$10,000 – but these are only estimates and each deal will also be unique based upon overall investor interest.
Who is John Gannon and Venture5 Media?
John is one of the original creators focused on the VC space, reaching 25,000 email subscribers and generating 1 million page views annually across the various brands in his holding company, Venture5 Media. (Click here to learn more about John's audience and properties).
John currently is an active angel investor and advisor to multiple startups. He previously worked in startup operating roles at companies like DigitalOcean (IPO) and Turbonomic (acquired by IBM, for a reported $2 billion).
Do I need to be an accredited investor to join the syndicate?
Yes. You will need to meet the SEC guidelines as an accredited investor or qualified purchaser.
An accredited investor is an individual who meets at least one of these criteria:
A net worth of $1M+, not including their primary residence.

An income that exceeds $200K per year for the prior 2 years, or a joint income with their spouse of $300K per year for the prior 2 years.

A Series 7, Series 65, or Series 82 license and is active and in good standing.
A qualified purchaser is an individual or entity with $5M+ of net assets.
Not sure? Consider speaking with your attorney or financial advisor.