On January 22, I announced a month-long experiment to grow the Creator Science newsletter. At that time, Creator Science had 17,310 subscribers and a goal to reach 20,000 by the end of February.
I'm thrilled to share that February ended with 20,824 subscribers! I added 3,230 total subscribers in February (2,733 net after unsubscribes).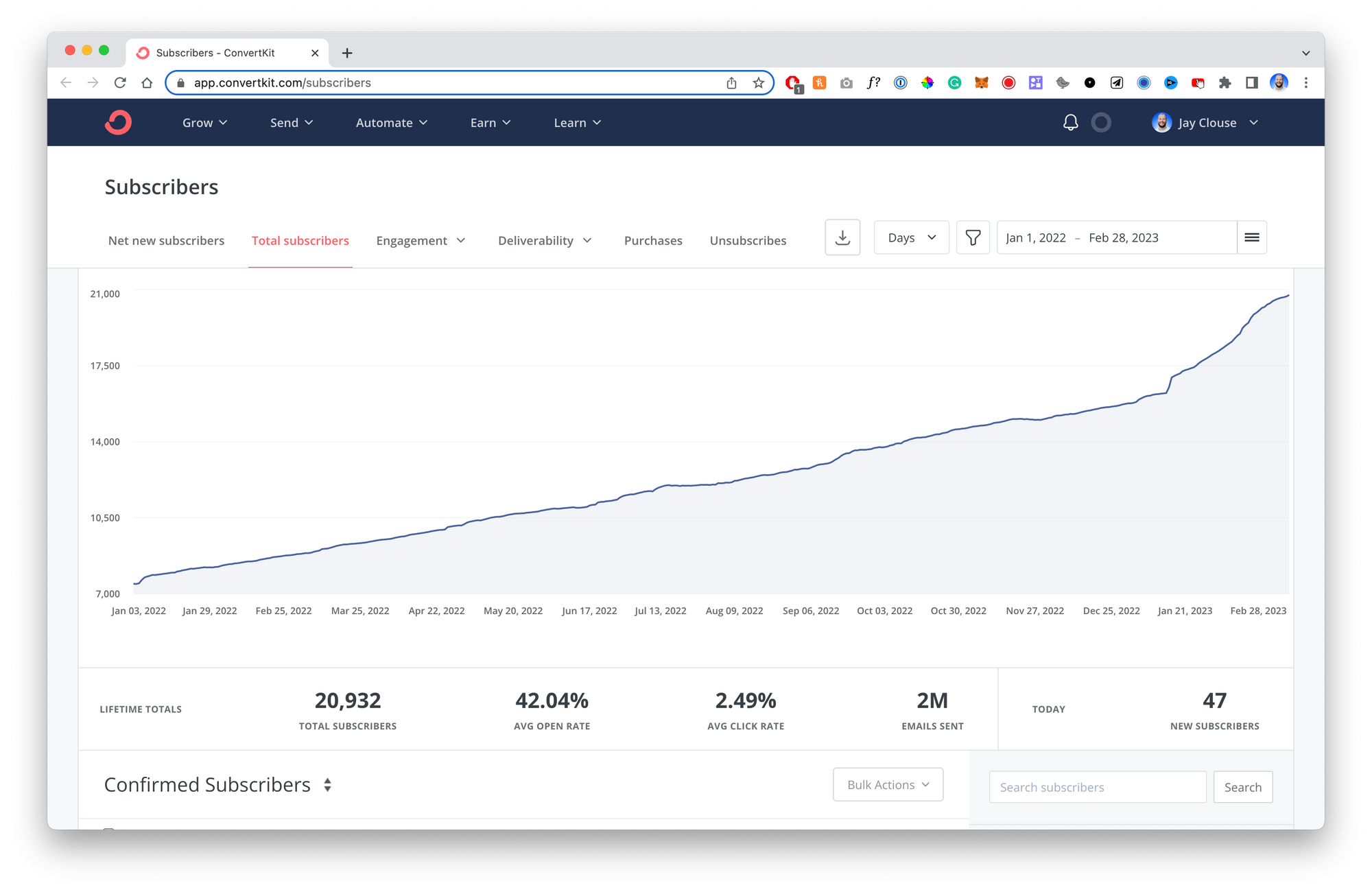 You can see in the graph above, there was a noticeable acceleration from the end of January through February in Total Subscribers, which is also shown in the month-by-month subscriber graph below: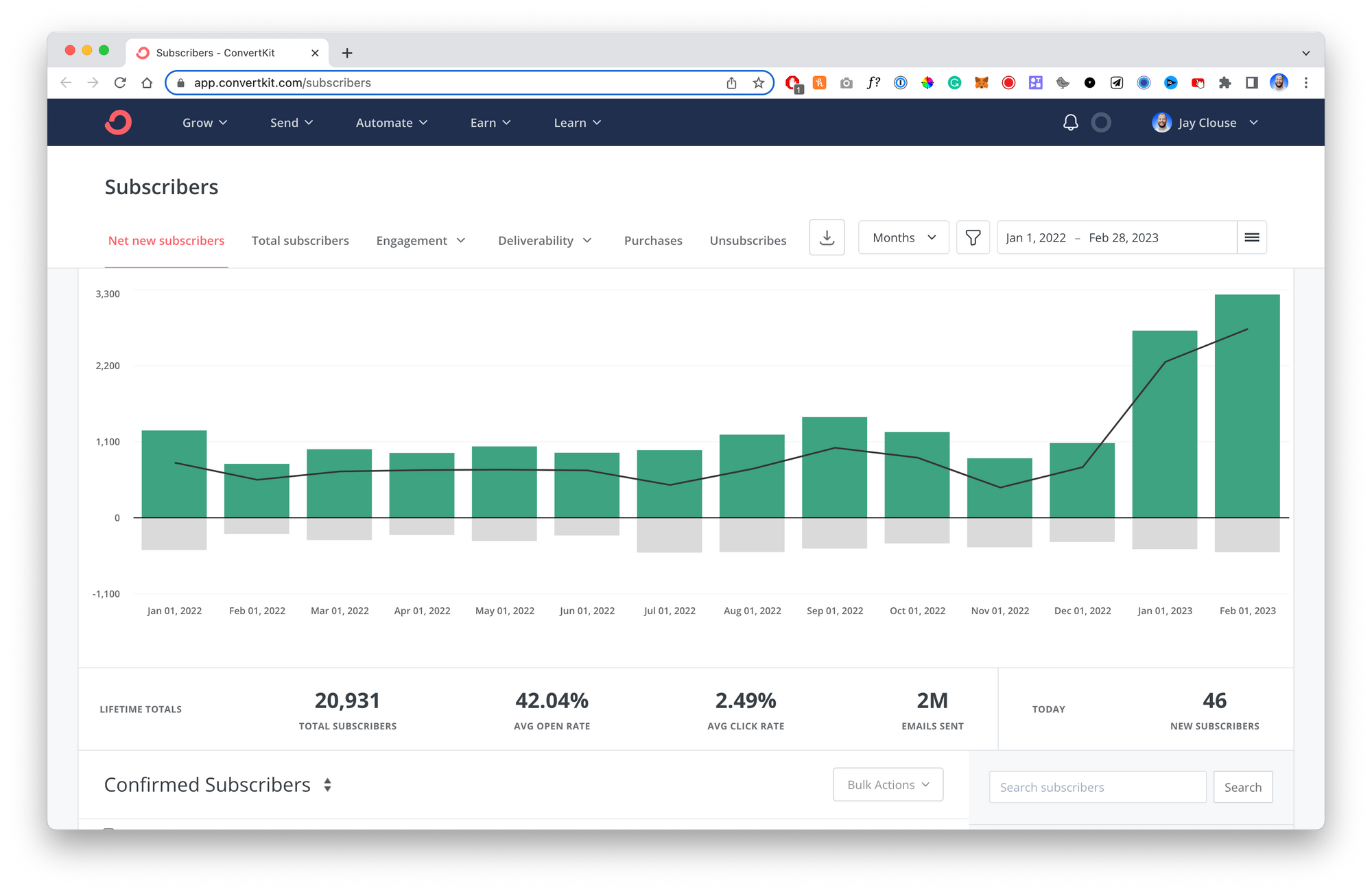 By the way, these screenshots are taken from ConvertKit, which is what I use for my newsletter and email marketing.
As promised, I wanted to share a detailed breakdown of where those subscribers came from (to the best of my knowledge).
Experiment(s)
I wanted to run a lot of different experiments this month:
Free workshop in front of another audience
Cross promotions with other newsletters
Paid promotion in different publications
Upscribe recommendations
Social posts (Twitter and LinkedIn)
LinkedIn Newsletter
Paid SparkLoop Partner Network
Twitter ads
Unfortunately, I was unable to get to all of these.
Namely, I did not run a Twitter ad campaign, nor have not yet pulled the trigger on the paid side of the SparkLoop Partner Network. I also dropped the ball on organizing any free cross-promotions (though I ran a couple in January).
But, thankfully, I was both able to both run AND track most of these well, so I'll share the results of each experiment below (including the overall contribution to subscribers for the month).
Free Workshop – 2.20%
On February 14, I hosted a Creative Mornings Virtual FieldTrip called Profit Science to help attendees think through their revenue model.
That session had 348 people register and 208 live attendees.
A great thing about Creative Mornings Virtual FieldTrips is that they give the host the opportunity to write a reminder email sent 24 hours before and a follow up 24 hours after the event.
So my strategy here was twofold:
Capture subscribers in the reminder + follow-up emails
Capture subscribers live in the session
I make a dedicated ConvertKit landing page for each session I do like this (often by just duplicating a past page and making tweaks).
Here's what it looks like: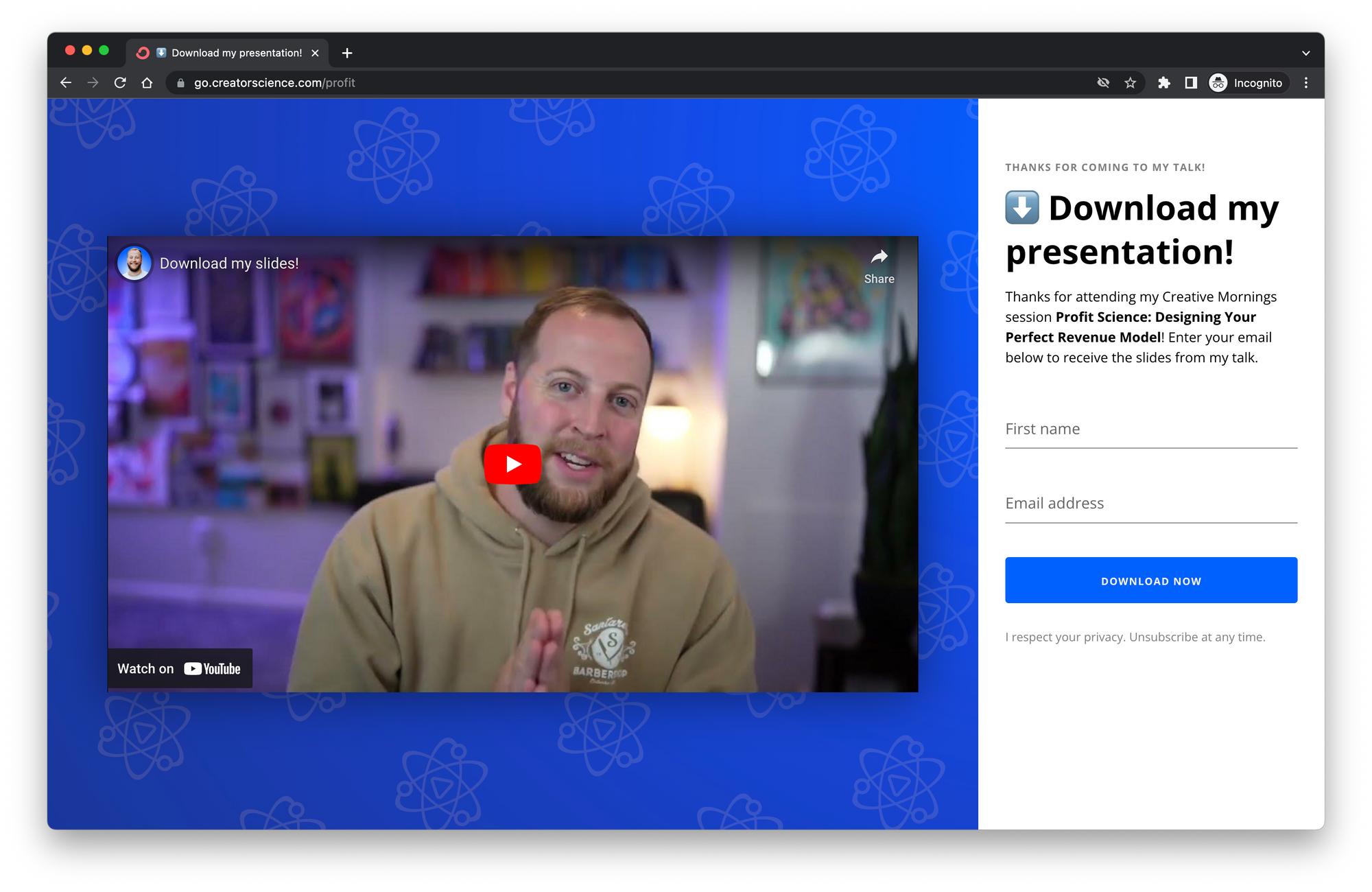 So not only does that page get sent from Creative Mornings in the emails to registrants, but I also share the link LIVE during the session by telling people that they don't need to worry about taking notes since the slides are available.
With this session, the landing page received 163 visitors and 71 new subscribers (43% conversion).
Not terrible, but not my most successful session either. In the past, I've gotten ~200 subscribers from some sessions.
Paid Promotion – 13.25%
I ran six paid campaigns this month split across two partners:
Kieran Drew (4 campaigns)
The Publish Press (2 campaigns)
In total, I spent $2100 on paid promotion which resulted in 1,476 page visits and 430 new subscribers (29% conversion). So the effective cost of acquisition was $4.88 per subscriber.
That's not terrible, but my goal in paid acquisition would be to get below $3 per subscriber.
But things get a little more interesting...
The Publish Press offers two ad units per issue (Primary and Secondary placement).
The Primary ad unit is a dedicated sponsored section of the newsletter while the Secondary ad unit is a clickable link in their "Press Worthy" section.
I purchased (2) Secondary units through a December promotion for a total of $1500.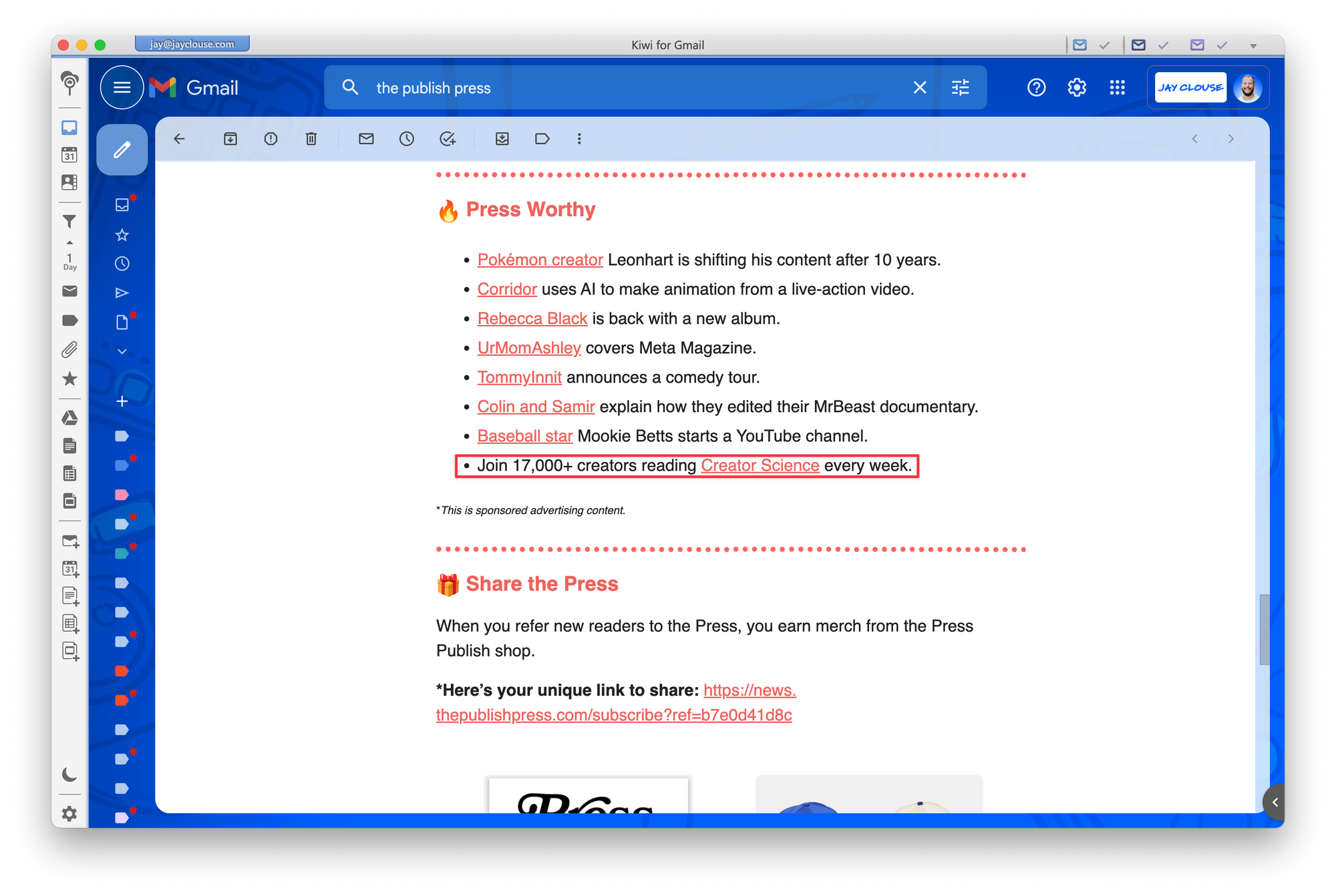 Kieran Drew bundled a Twitter shoutout and three newsletter campaigns into a $600 package.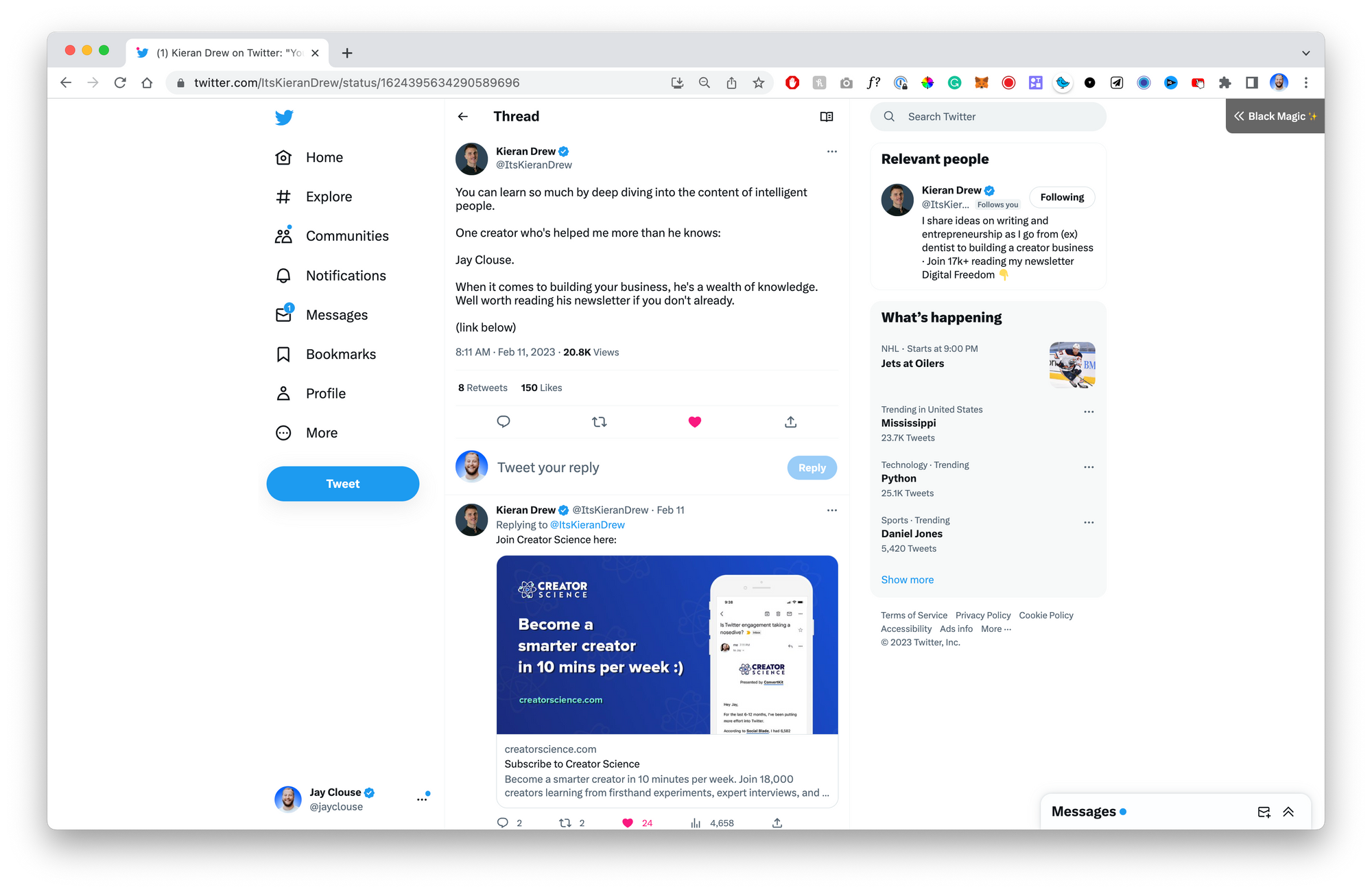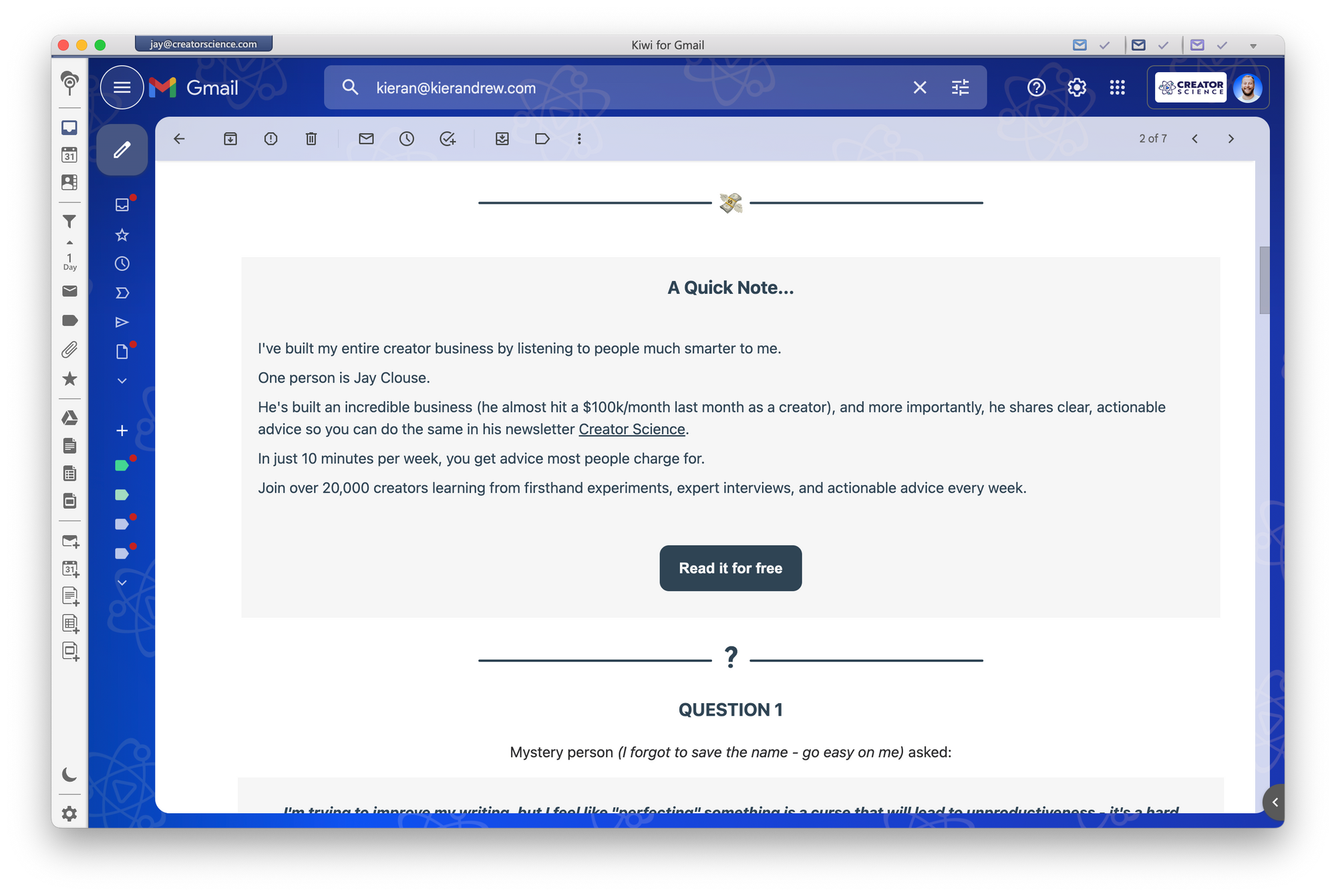 These campaigns had wildly different results:
The Publish Press: 143 subscribers / 25% conversion / $10.49 CAC
Kieran Drew: 285 subscribers/ 31% conversion / $2.10 CAC
Total: 428 subscribers
Upscribe Recommendations – 54.89%
I've become a power user of SparkLoop, a newsletter growth software. It began as a tool to power referral programs in ESPs (Email Service Providers) like ConvertKit. But, over the last couple of years, the product has evolved a lot.
Recently, they rolled out a feature called Upscribe. This is an on-page widget that appears after someone subscribes to your newsletter and recommends other newsletters to subscribe to (with one click).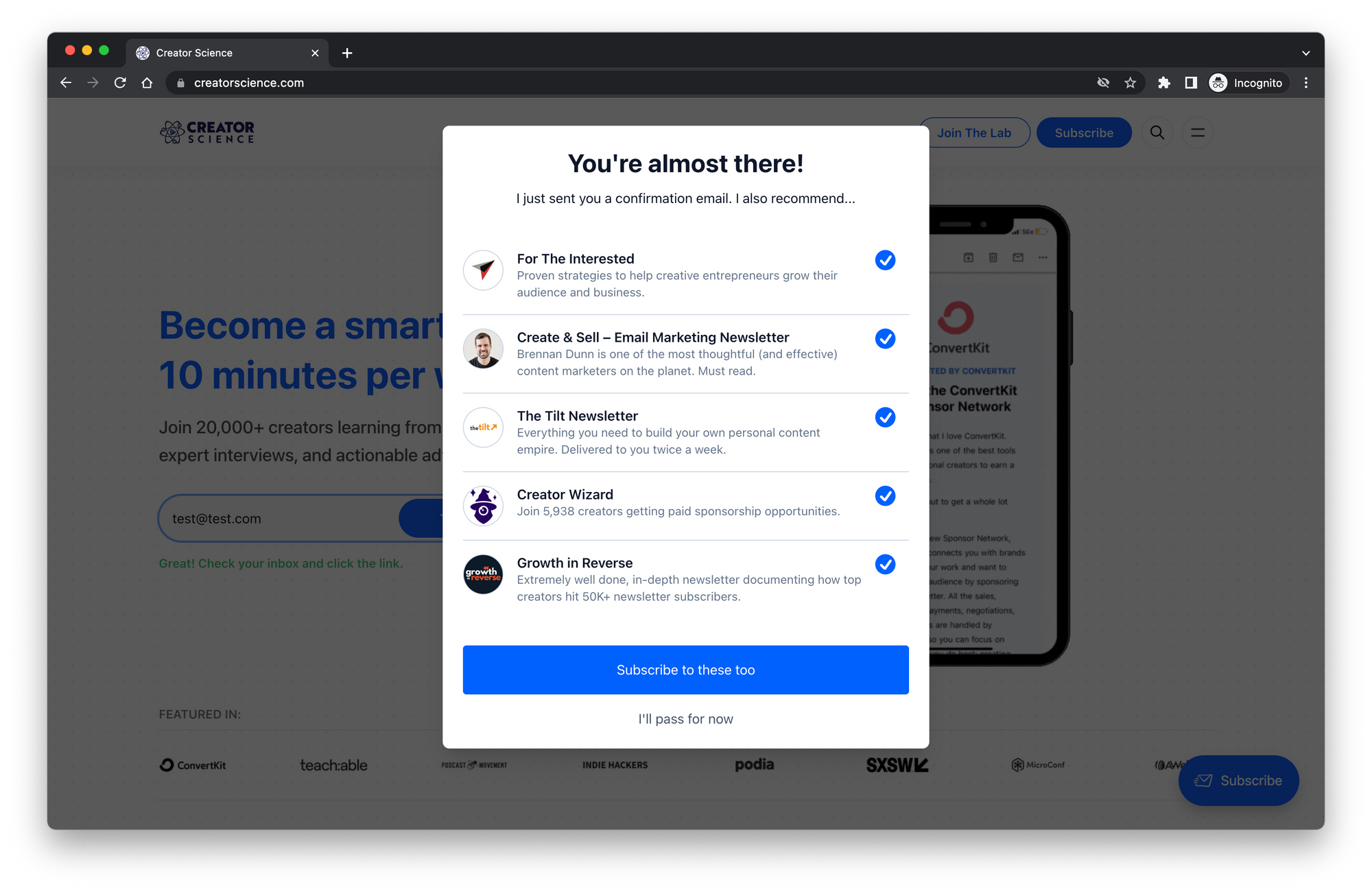 I am fortunate to have gotten beta access to Upscribe and I've been using it for a few months to cross-promote with For The Interested, Creator Wizard, The Tilt, and recently Growth in Reverse (Create & Sell is paid placement via the Partner Network).
So, instead of paying each other for newsletter referrals, several of us recommend one another as a trade. This has been a massive part of my recent growth, and even subsidizes the cost of paid acquisition in a way – because when I run paid campaigns, my partners get the benefit at no cost.
Those partners contributed a lot to my growth in February:
Creator Wizard: 1391 subscribers (thanks, Justin!)
Growth In Reverse: 179 subscribers
For The Interested: 111 subscribers
The Tilt: 93 subscribers
Total: 1,773
I believe Creator Wizard was running several campaigns in February too – so a rising tide lifted both of our ships!
Social Media Posts – 10.46%
I've finally started to wrap my head around converting social media traffic (namely Twitter and LinkedIn) into email subscribers.
I first saw the magic in early January when I had a thread go viral:
That thread (and the repurposed version on LinkedIn) led to about 800 combined subscribers. So, at that point, I began getting more serious about trying to reliably convert social media impressions into subscribers.
The problem was that I had no idea how to attribute how social media impressions became subscribers.
But then I came up with a fun little hack...
Once again using SparkLoop, I created dedicated Free Recommendation "campaigns" for all of the different links on my social profiles: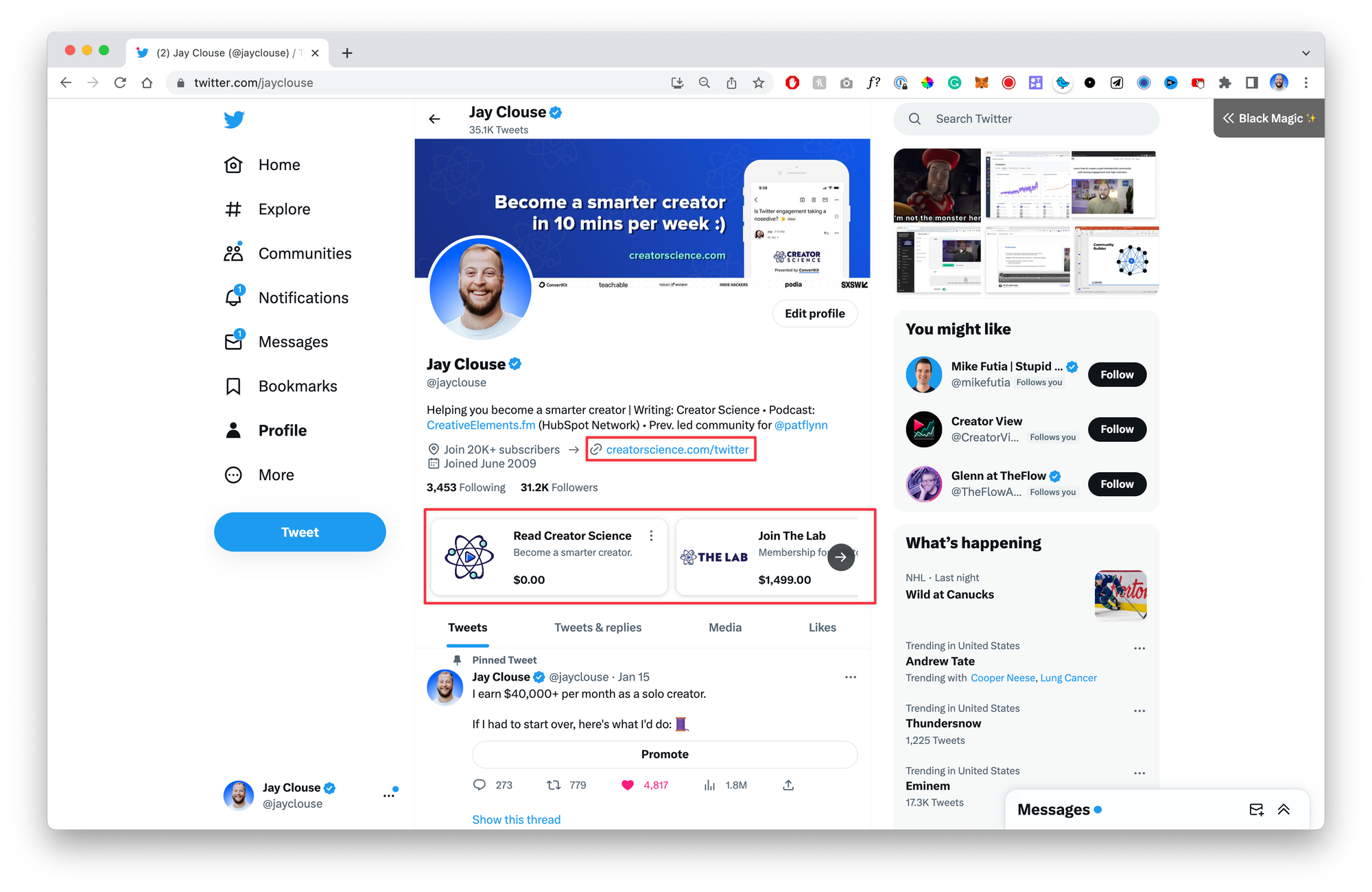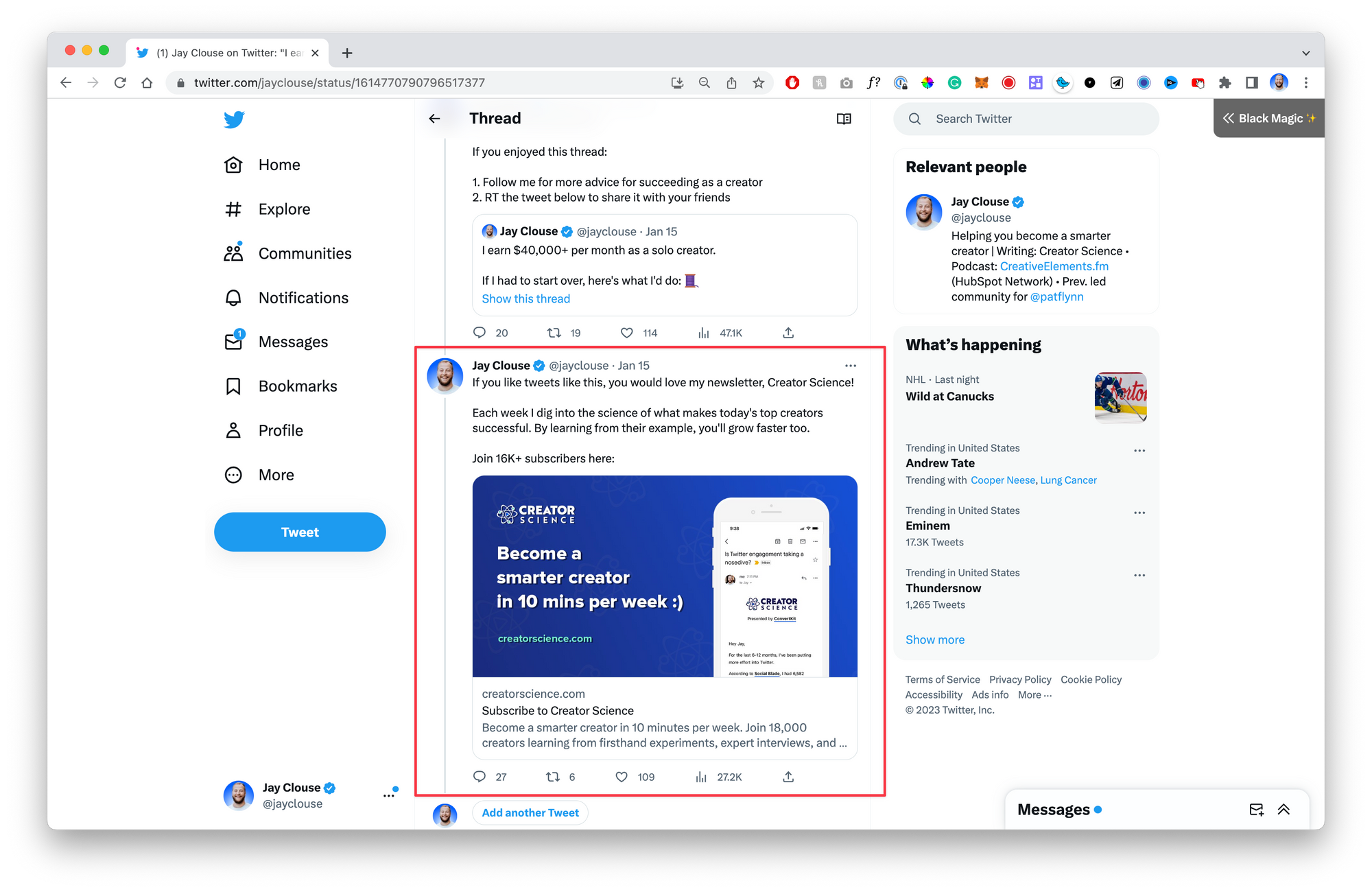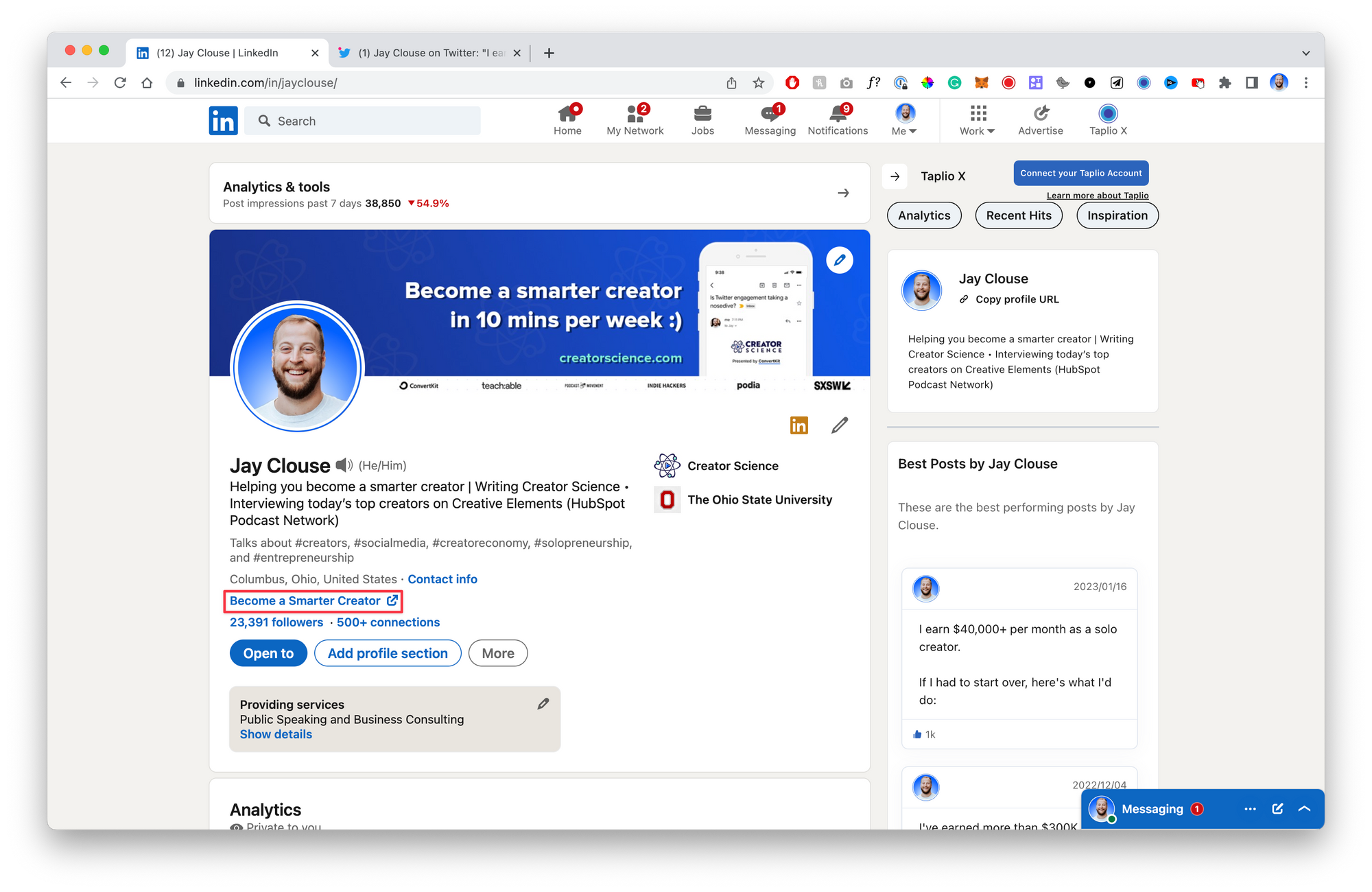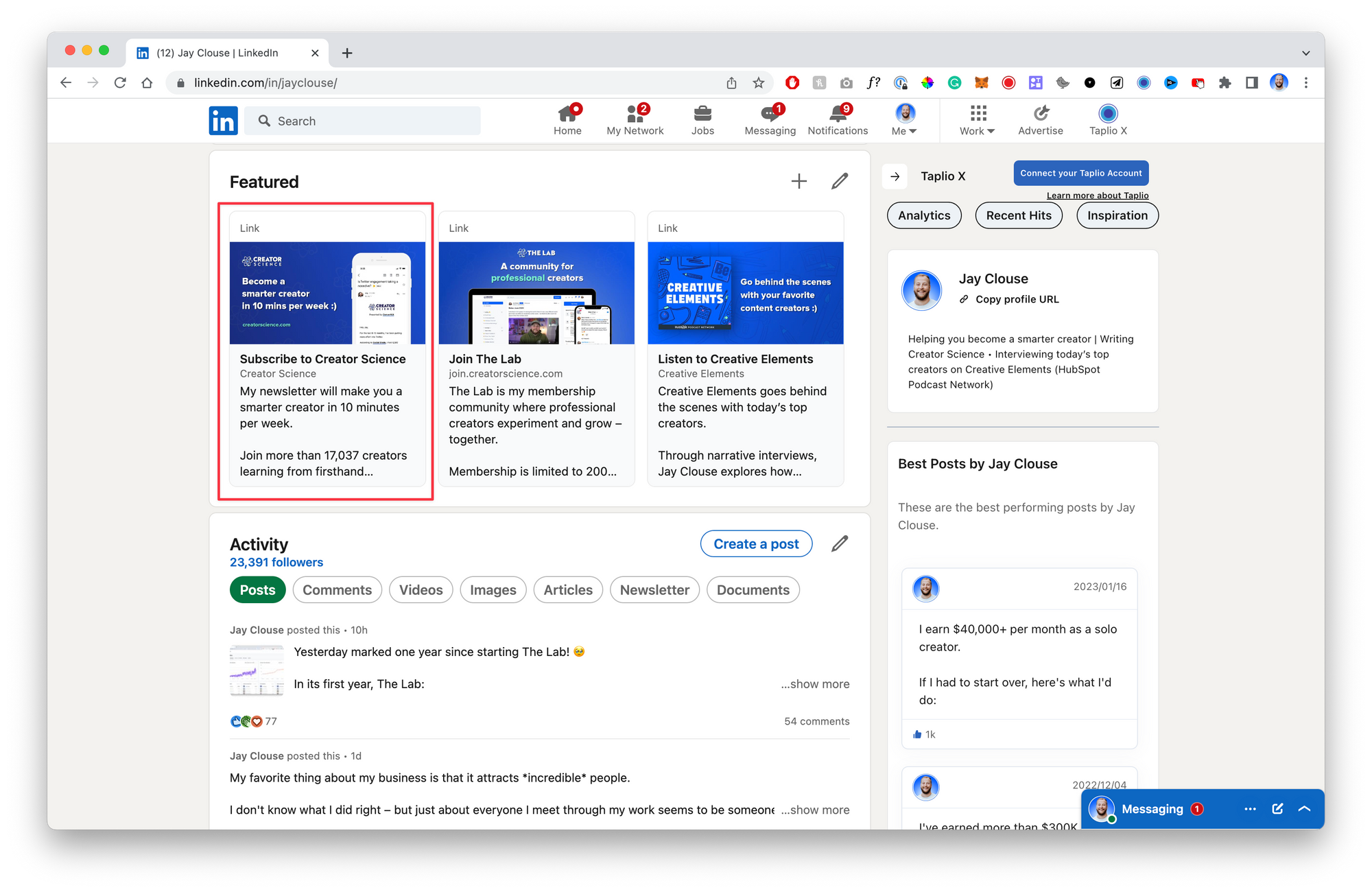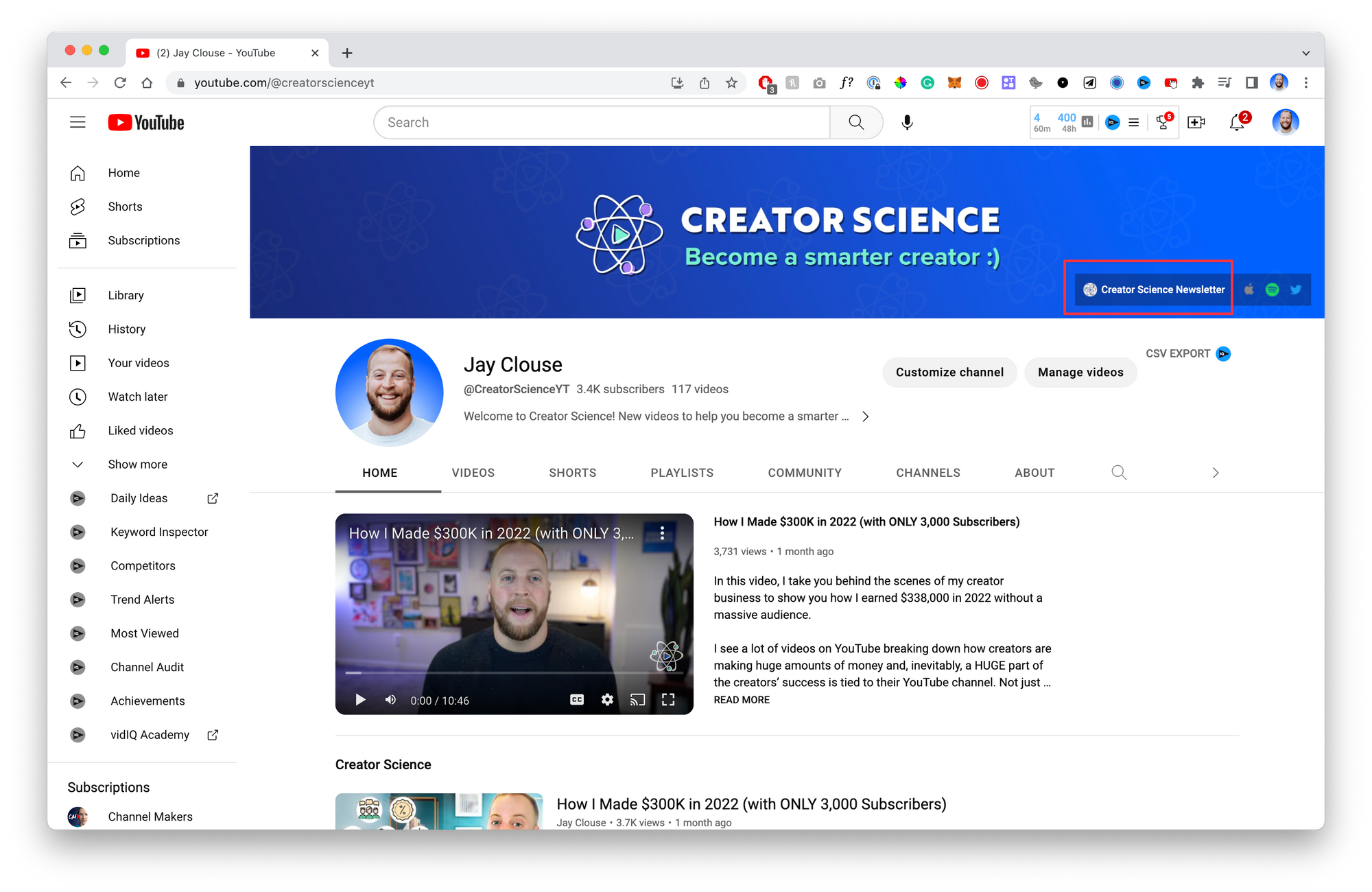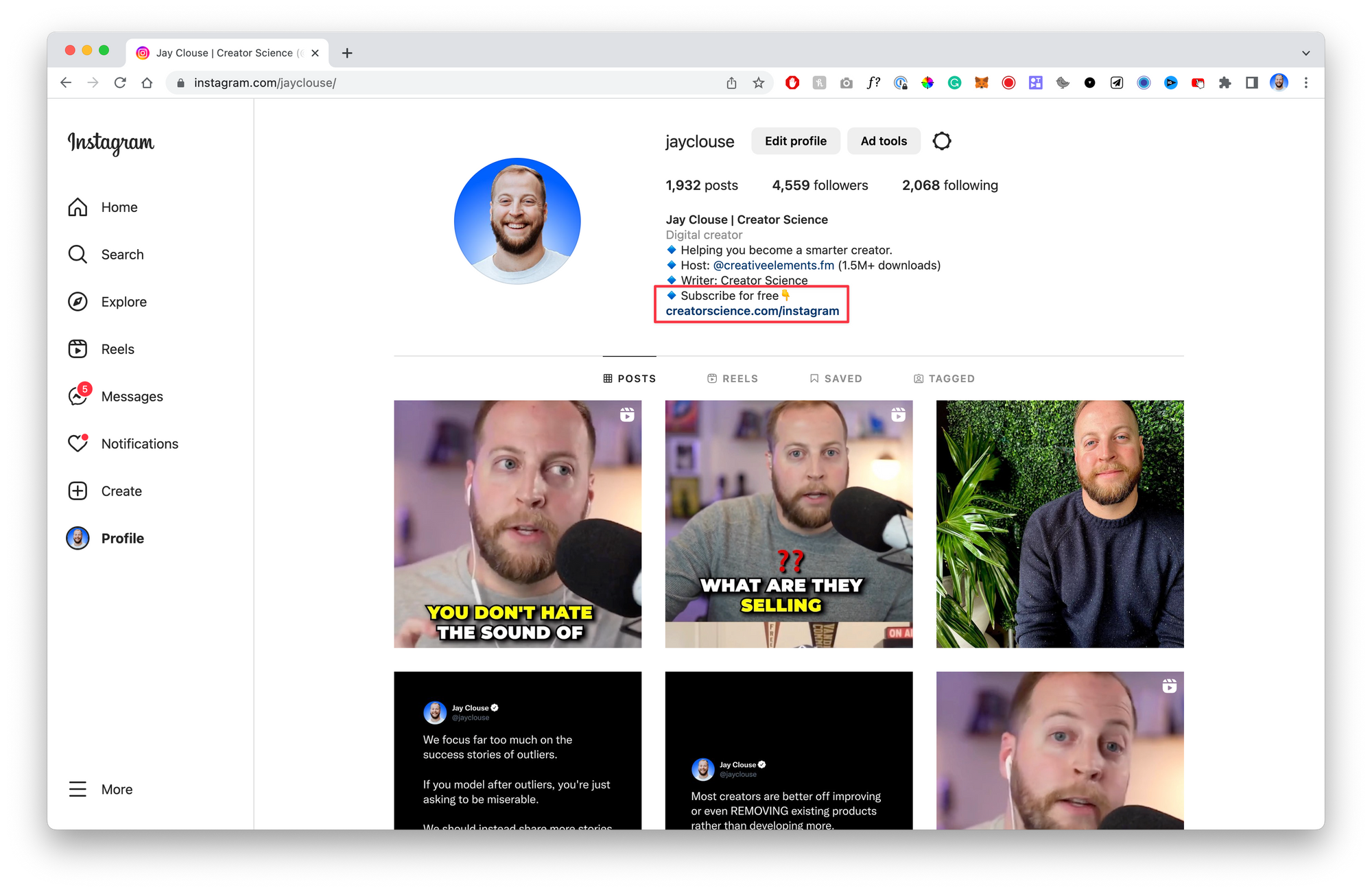 Here's how those platforms performed in February...
Twitter Bio: 77 subscribers (7% conversion)
Tweet Autoplug: 194 subscribers (33% conversion)
Twitter Shopping Link: 16 referrals (18% conversion)
LinkedIn Bio: 44 referrals (16% conversion)
LinkedIn Featured Section: 0 referrals
Instagram Bio: 2 referrals (3% conversion)
YouTube Banner: 5 referrals (22% conversion)
Total: 338 subscribers
Some takeaways here:
The Twitter Bio link was by far the most visited – over 1000 impressions. I'm not sure I buy that only 77 converted to subscribers given the conversion rates elsewhere.
Tweet Autoplugs were the most efficient AND the most successful – which I think makes sense. If people read a full thread and click through to your newsletter, they're probably already sold that they want more from you.
The Twitter Shopping Links don't get much traffic – 10% of the traffic that the regular bio link received. But it looks legit, so I'm keeping it around.
Instagram and YouTube were laughably bad – but I think that's ME not knowing those hustles yet more than a platform problem.
LinkedIn Newsletter – 0.15%
My last experiment was a little half-baked. I have a LinkedIn Newsletter with nearly 41,000 subscribers (more than twice the size of THIS newsletter)!
So obviously I'd love to transition more of those readers into my own newsletter on ConvertKit.
Historically, I haven't been able to do that very effectively. And it's really tough to understand what's failing because the newsletter product itself is pretty primitive – the analytics DO NOT tell you:
Open rates
Click rates
Which links were clicked
How many times those links were clicked
...so you're really flying blind.
I wrote an issue inviting readers to follow along with THIS email experiment: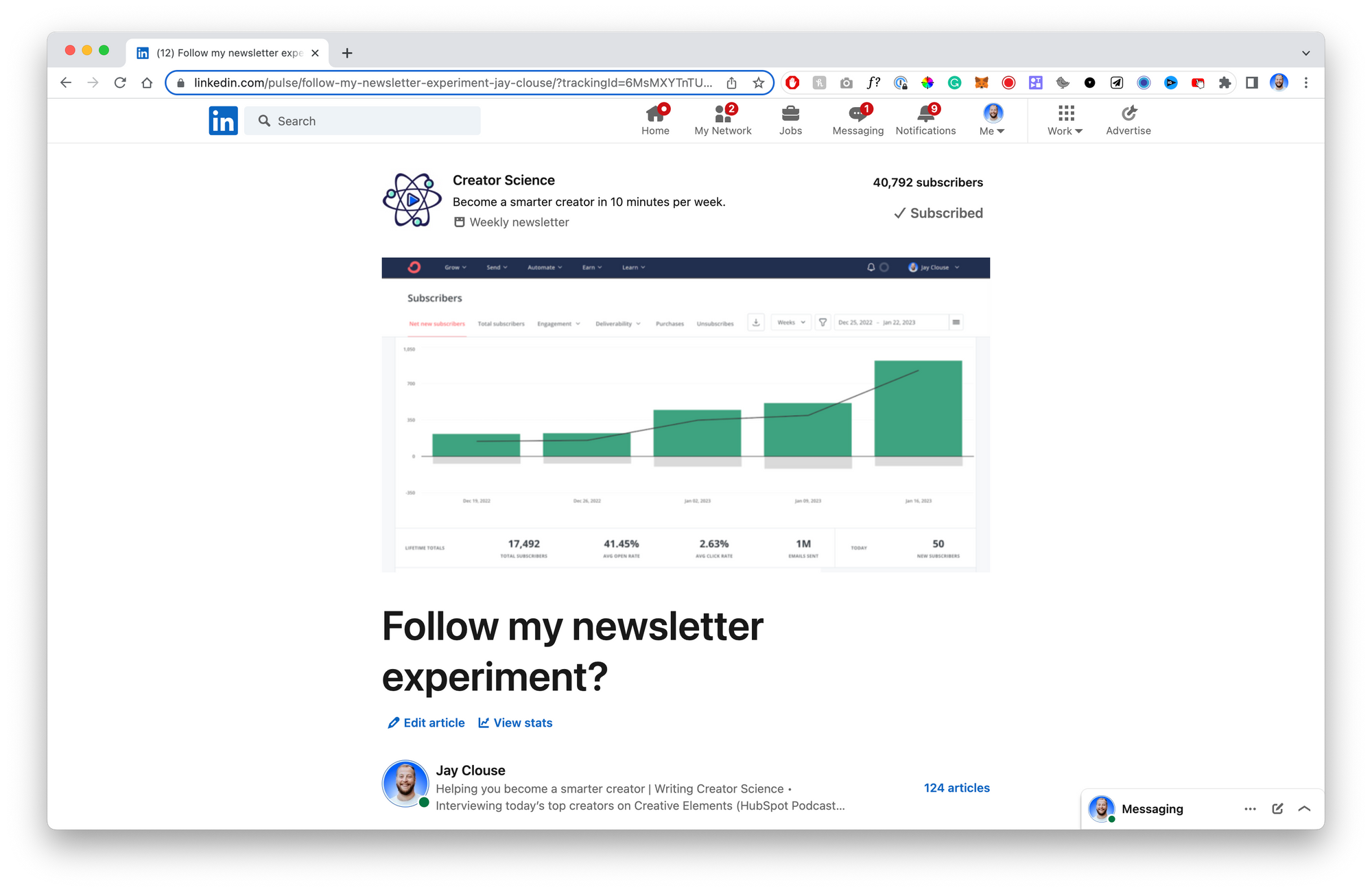 The goal was to get people interested in THESE results and so the whole newsletter was aimed at driving folks to click a link and subscriber. I once again used SparkLoop to create a dedicated link to track the results.
...that resulted in 6 subscribers on 25 page visits (24% conversion).
Can that be real?? A newsletter sent to 40,000 subscribers got TWENTY-FIVE clicks???
LinkedIn Newsletters are so frustrating.
Conclusions
If you're doing the math at home, what I was able to track above accounts for 2,619 of the 3,230 new subscribers in February. The remaining 600+ (19.05%) I expect came from word of mouth, the podcast, sharing, and the other general attention I capture online.
I was really impressed by how effective advertising with Kieran Drew was. As a solo creator, he cut me a good deal and he created more results than the other publication (which has a larger audience).
Upscribe continues to be an incredible tool. There's a limit to how many publication cross-promotions I'd want to do in my own widget, but it really has me interested in using the Partner Network to pay for subscribers (which can be done for $2-5).
The free workshops are still effective, but I'd like to focus on reusing EXISTING content vs. creating a new bespoke workshop each time. For the amount of effort, the return may not be quite worth it.
It's really nice to see which social links are bearing the most fruit (Twitter Autoplugs and Twitter/LinkedIn bio links).
Lastly, this experiment ACTUALLY helped me realize that I want to temporarily remove my focus from email growth. Not that I don't WANT email growth or I wouldn't be happy with whatever organic growth I receive!
But despite having such a massive month of subscriber growth, I did not see a meaningful increase in digital product sales.
What I've realized is that I do not have a clear customer journey from subscriber → digital product customer and that's something I need to fix. There's no point in pulling in (and paying for!) more subscribers if I don't see how that turns into immediate revenue (especially since The Lab is now at full member capacity).
So my next experiment in March-April is to improve the customer journey and reliably turn subscribers into customers. If I can prove THAT to be true, then the next step is further increase subscriber acquisition (free and paid) to take advantage of that sales pipeline.
Subscriber growth should yield revenue growth. If you have digital products and you don't see correlated revenue growth with subscriber growth, I think it's worth fixing the customer journey before fighting for more subscribers.